Profiling Resident Usage of Building System (PRUBS)
The accuracy of a 3D zonal-type simulations based on widely used simulation engines (e.g EnergyPlus) is highly affected by the level of detail of its input data, where recent studies have shown that the occupant behaviour data consist the major cause of uncertainty in the building energy performance estimation results. Hence, having a deeper understanding and properly modelling the occupant behaviour have been of paramount importance within IEA EBC Annex 66, where data, methods and models have been developed and applied to understand and reduce the gap between simulated and measured building energy performance by representing occupant behaviour in a standardized XML schema (obXML).
PRUBS leverage the outcomes of Annex 66, adopting obXML as its populated data model, and applying Machine Learning algorithms on IoT data streams provided by a sensor network that will be designed and installed to the pilot sites, generates occupant behaviour profiles that mimic the inhabitants' actions. These profiles are subsequently used to project the building system (e.g. heating/cooling) utilization boundaries that lie within the comfort zone of the residents.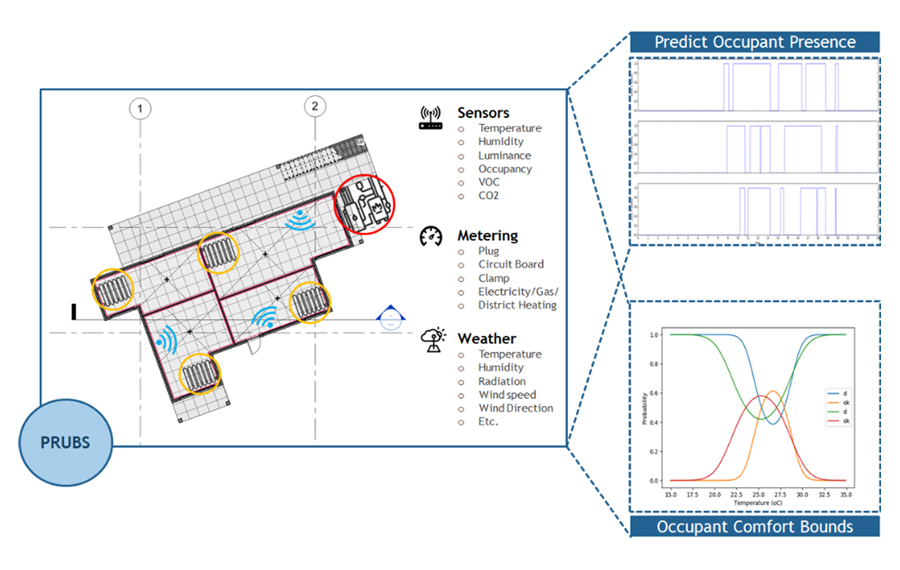 The BIMERR Interoperability Framework (BIF) consists of four components:
For the occupant behaviour models training IoT streams data are requested. To receive the IoT streams data model, the PRUBS communicate with the BIMERR Middleware, which is in charge of the buildings sensorial data handling. As mentioned above, the PRUBS' output contains data-driven occupant behaviour models that populate an obXML file. That file is sent to BIMERR Interoperability Framework to be properly enriched and linked with other data, so that it can be used by the Building Energy Performance Estimation (BEPE) component of RenoDSS.
Which specific use cases are the PRUBS addressing?
BIMERR consortium has collected requirements from all stakeholders that represent different actions in the renovation process, but also various roles. Elicitation and analysis of that requirements have resulted to numerous use cases, where the PRUBS are applied. For instance, a use case refers to the building thermal design adaptation to its actual use including accurate information about occupancy and schedules, comfort requirements/preferences and energy uses, while others pertain to the occupant behavior models' usage to eliminate the gap between simulated and measured building energy performance.
When will the PRUBS be available?
The first version of PRUBS will be officially issued in October 2020 to support the pre-validation deployment and testing activities, while its final version will be delivered in June 2021 to evaluate their performance in real renovation projects (validation phase).